The Benefits of Guest Blogging for SEO

If you have a brand or a business that needs to establish a strong online presence, there are a few things you can do, one of which is surely guest blogging. Search engine optimization is slowly but steadily turning into a science, as there are more and more SEO rules to follow and things to learn each and every day. SEO experts have broadened their views and are now taking into account pretty much everything that has anything to do with your online presence and ranking in SERP's, and they are using all of this information to create effective SEO campaigns. One of the more effective SEO tools is guest blogging, as blogs can be easily and practically used to spread the word in the online world and to help you establish a strong online presence.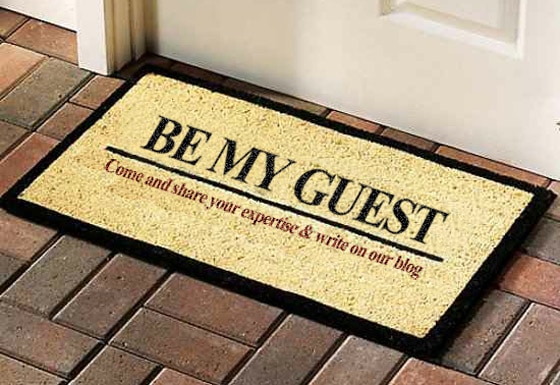 Original Image source: http://www.sharenator.com/Rooooll_out_the_welcome_mat/201344/
The SEO Benefits of Guest Blogging
There are a lot of different benefits of guest blogging for SEO, but here are some of the most important ones listed:
Link building
Link building is definitely the number one SEO benefit of guest blogging, as it enables you to get the word out to as many people as you can, and get your link in front of the people who would probably not have seen your link otherwise. Two or three links allowed in guest blog posts are plenty for you to make use of and make them count in your SEO campaign.
Website traffic
Naturally, the links to your website in guest blog posts will drastically increase traffic to your website, and there are numerous benefits of increased website traffic. More traffic brings more exposure in the online world, and more exposure brings more chances of success. Aside from this, more traffic to your official website will also bring more ad revenue, which will have an immediate positive effect on your finances.
The volume of content
Modern SEO campaigns revolve around social media, and in social media it is all about sharing interesting content. Well, by writing high-quality guest blog posts, you automatically have more content to share, thus more social media attention and more success in the long run. If you have a brand that needs promoting, you just need to get your social media audience talking about it, and this is easily done by sharing a guest post related to your brand featured on a high PR blog.
Increasing audience
Once again, it all comes down to numbers. The more people hear and read about you, your business, or your brand, the higher your chances of success are. You can reach online audience through many different channels, and blogs are one of these channels. What's more, you can also gain more regular subscribers, visitors, and readers by getting to them through a guest blog post, and getting them interested about what you have to say on your own website or blog.
Authority and credibility
If you have just two or three links featured on a high PR blog, these links will be worth a lot more than dozens of links featured on low PR blogs throughout the Internet. This way you build authority, and search engines love this. Aside from authority, you also build credibility, which is yet another important aspect of SEO, as it has a lot to do with the position of your site in search engine results.
The Golden Rule of Guest Blogging
Finally, it is important to know that the guest blog post you write has to be immaculate in every single way. Writing a guest blog post is one of the most difficult writing tasks a content writer has, as this piece of writing has to be good enough to be accepted by a high PR blog, as well as good enough for the readers of this blog to recognize it as valuable and relevant.